Events
Prices Between £5.00 to £40.00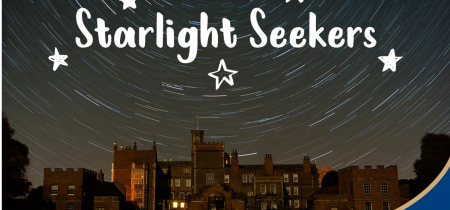 Starlight Seekers
Shining a light on children's mental health post-pandemic
We've teamed up with the marvellous Health Stars to host a fantastic partnership event, set right here in the glorious grounds of Burton Constable!
Fellow starlight seekers, join us for an evening filled with fun for all the family, as we undertake a sponsored stroll under the starlit sky and 'shine a light' on children's mental health post-pandemic. 
We'll be joined by Hull and East Riding Astronomical Society (HERAS) who'll be sharing their expertise as well as their telescopes! Also, Evoke Technologies will be demonstrating interactive tech' from another realm. Watch out for a mystery guest from another galaxy too!
This truly extraordinary event will see us come together to support children's mental health services within our area.Together, we can help make a massive difference to the young people's lives in our area, whilst fundraising isn't compulsory for the event we would welcome individuals and families alike to download the sponsorship form and take on the 5K Starlight Seeker challenge. 
We welcome you to join us to add a 'little sparkle' to the young people's lives who need it most.
Why not go all out and purchase the VIP experience ticket? This includes all of the above but also exclusive access inside the Hall to visit some of the associated collections, a meet and greet with our curator and a photo opportunity from the rooftop of the North Tower of Burton Constable.
Event Information:
Date - Sat 8th Jan
Time - 5:00pm-9:00pm
Location -  Burton Constable Hall & Grounds
5-6pm - Arrivals to report to the main Ticket Desk. Stables Kitchen will be open for food and drinks. Congregate in the indoor Riding School to take advantage of activities before the event begins.
6-6:30pm - Introduction from Health Stars and guest speaker in the Carriage House.
6:30-7:30/8pm - Sponsored walk - Starlight Seekers stroll beneath the stars around the Grounds of Burton Constable.
8pm-9pm - Return to Indoor Riding School activity area and grab a hot drink and snack from Stables Kitchen before you depart. Or begin your VIP experience.
Advisory: Bring adequate clothing for both indoor and outdoor activities and consider the weather. Bring appropriate footwear for differing terrain. Bring a torch for extra safety and vision.
We ask that you abide by our policies and procedures at all times, whilst respecting our premises, staff and volunteers.
Find out more
Book now